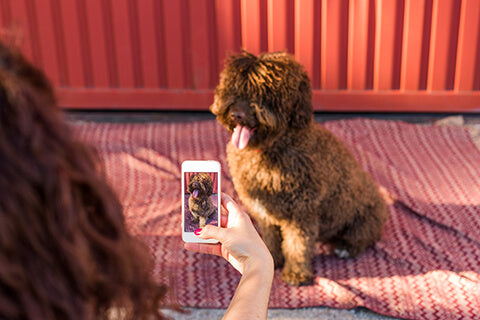 1 - Good Lighting & Focus: Avoid blurry image. We all love good lighting. Take a photo or choose an existing photo that is taken in daylight or in a brightly lit room. Our artists work directly with the photo you upload, so ensure you capture your pet in good light, and that you're happy with the colors in your photo.
2 - All about the position: Sitting down and standing up photos work best. When your pet is laid down it's harder to create an amazing piece of art:
A: Eye Level: Make sure your pet is looking directly at the camera at eye level, facing forward. 
B: Full Face: Ensure the full face is visible in frame.
C: Close Up: Try to get a close up of your pet
3 - True Color: Avoid overly filtered photos to ensure we correctly capture your pet's coloring. 
All photos undergo a screening process once your order has been placed. If there's an issue with the photo and we believe your artwork won't be as detailed as we'd both like, we will email you. But if we don't hear back, we'll have to proceed with the photo you originally provided. 
Please note: collars, leashes, bows, hats, and other cute outfits will be illustrated in your final portrait.